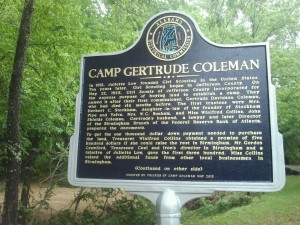 Camp Gertrude Coleman in Trussville, Alabama, has been an outdoor adventure for thousands of Girl Scouts since 1925. Gertrude Davidson was born in Springfield, Ohio, on August 7, 1887, to Frank P. Davidson of Harrisburg, PA, and Eleanor (Elma) S. Davidson of Bournemouth, England.  Frank Davidson moved the family to California after taking a teaching position and starting a school in San Diego.  As Gertrude and her brother grew older, they moved to Berkeley, California, to attend school at the University of California.  She graduated in 1904 with a degree, we believe, in literature.  After graduation, spent a year in Florence, Italy, studied at the Sorbonne in Paris, attended Oxford University in England, and completed her studies in literature back in Florence, Italy.  She traveled throughout Europe and resided overseas for ten years.

Tragically, her brother Charles S. Davidson, a well-respected engineer in San Francisco, died on a trip to South Africa in 1910.  He had been married just nine months and left behind a wife and a son he was never able to meet.  His wife became the dean of women at the University of California in 1947, and his son went on to be a prominent physician in Boston.

During WWI, Gertrude served the effort where she could, including with the American Red Cross unit organized in Italy by Mrs. Thomas Nelson Page.  She was also the head of two large YMCA leave areas in France.
She married John Shields Coleman on July 7, 1921 in California and resided in Birmingham shortly thereafter. She was instrumental in establishing Girl Scouts in Birmingham and Jefferson County at a time when there were a lot of extracurricular activities for girls that, served as the first Jefferson County Girl Scout commissioner. She died on November 22, 1924, a week after giving birth to her only child, a son named Davidson Coleman, from eclampsia at the age of 37. Her son died six weeks later. She and her son are buried at Elmwood Cemetery in Birmingham.
Mr. Coleman supported the endeavors of his wife and helped draw up the papers that incorporated the Jefferson County Girl Scouts on May 22, 1925 for the express purpose of establishing a camp. After locating a prime piece property in the northeastern portion of Jefferson County, they raised the money, purchased the property, and named it after their friend and fellow scout Gertrude, who had died less than a year before.
Thanks to Gertrude Coleman's example of the empowerment of women, her husband's dedication to creating a lasting legacy, and her fellow scouts, Camp Coleman has provided decades of excitement from sliding down Suicide Slide, trekking to the caves, sitting on the docks, watching barges flicker down the Cahaba River, swaying across the Swinging Bridge, visiting Fairy Rock, passing the Troll under the bridge, swimming, canoeing and exploring happy trails on horseback …what fond memories of Camp Coleman and all of the Girl Scout life-long friends we made!
Camp Gertrude Coleman consists of 34 wooden structures situated on approximately 140 acres along the Cahaba River. The camp has been in continuous operation since it opened in 1925, including during World War II when most camp facilities closed. It is one of the longest continually operating Girl Scout camps in the nation and was listed in the Alabama Register of Landmarks and Heritage in 2013.
Brief Historical Outline:
1912 – Juliette Low founded Girl Scouts in the United States
May 22, 1925 – Girl Scouts of Jefferson County incorporated for the express purpose of buying land to establish a camp.
1925 – Original dining hall built (the main entrance and front doors of this building were situated slightly in front of the existing front porch where you see the rock formation now. The old Dining Hall sat long ways on the site rather than horizontally.)
1925 – "Peter Pan" (now known as "Sherwood") was the first unit constructed and was used for summer campers in 1925
1927 – The Civitan Club of Birmingham donated a new steel flagpole to replace a felled pine tree being used as a flagpole.
1943 – "Outlook Inn" was built and designed as camp office, store, and visitor's cabin
1952 – Bell located outside and to the right of the dining hall was donated by Southern Railroad and is used to call campers to meals and as a signal in emergencies
1958 – Jefferson County Council became the Cahaba Council
1958 – Corkie's Well was built in memory of Miss Ethylene Cork, a camper, staff member, troop leader, and outdoor trainer who was affectionately known as Corkie
1970 – Low Hall was completed on the site of the old dining hall and is a fully equipped dining and kitchen facility
1971 – "Butler" Building built near parking lot to serve as headquarters for repairs and maintenance
1987 – The three cabin "Older Girl Unit" and the small bath house were constructed near the Old Director's cabin
1990 – Outlook Inn transformed into a nature center
1994 – Camp Director needed at the property full-time
1996 – A new aluminum flagpole was erected in memory of Edna Earl Blackburn who served on the council staff for 18 years as the Camping Administrator.
2007 – Cahaba Council merged with three other northern Alabama councils to form Girl Scouts of North-Central Alabama which serves 36 counties
2008 – 14,000 people visited the camp
May 2012 – Announcement that Camp Coleman among four Girl Scout camps to be closed
June 2012 – Friends of Camp Coleman, Inc was founded by concerned members of the Girl Scout community.
September 2012 – Camp Coleman is listed on the Alabama Historical Register
April 2013 – Annual Meeting of GSNCA where eleven Friends of Camp Coleman supporters were elected to Board of Directors of GSNCA
May 2013 – Historic Marker erected at Camp Coleman
June 2013 – Camp Coleman was rested not closed thereby ensuring its status as the third oldest continuously operating Girl Scout camp in the country.